​BOKC as a token exchange Which is the most valuable investment launched offcially at Nanshan international conference center of Shenzhen. That is a big day—16 November,2018 . Guangdong TV、city channel of Shenzhen TV、finance channel、mobile channel、public channel、Southern daily、China business news、Shenzhen special zone newspaper、Shenzhen business newspaper、crystal newspaper、China times、financial industry 、China economic news 、shenzhen news、Sina、China net、investors newspaper、panorama net、stock market dynamic、manager net and other media presented.The author was honored to witness with more than 200 guests that the birth of this grand and delimited' decentralization+digital certificate' model .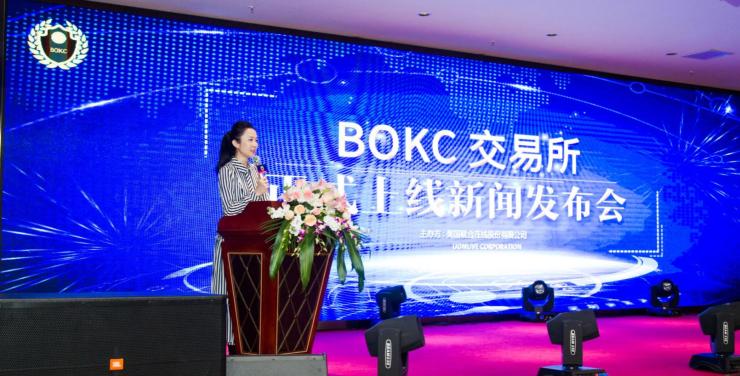 (Photo1:BOKC digital stock exchange official launch of the online press conference scene)
In the IPO era, a few people master capital, lots of enterprise fail to list because of difficult financing, long approval time, market downturn and the bottleneck of IPO development. In the ICO era, the digital economy, entry to the market, personal issue virtual currency, chain financing, In the unregulated market, bubbles,explode , opaque audit and frequent crashes caused ICO was banned in China .So we predict that ICO have become the past. However, IPO unable to break through the bottleneck even under layers of supervision, The phenomenon of enterprise financing difficulties still exists. To solve this problem, STO was born.
STO refers to the token can be public issued in accordance with the requirements of laws, regulations, administrative rules and regulations under the condition of public regulatory framework. STO is a kind of financial asset or equity in reality, such as company equity, creditorundefineds rights, intellectual property. Trust shares, as well as gold and jewelry and other physical assets, converted into the chain encryption digital voucher which is the real world of various assets, rights and interests, services digital. If we say that investors support IPO because they are bullish on enterprise's prospects ,ICO is a futuristic fantasy, then STO is favored by investors because it is regulated and based on the nature of securities.
Compared with ICO, STO can protect investors from the impact of ICO drawers and dump plans because of its higher safety . Combining with block-chain technology, STO is superior to IPO in financing efficiency, financing time, financing cost, information symmetry and other aspects. So STO is more suitable for small and medium enterprises, high-tech enterprises and so on. In addition, STO has the following advantages: programmable features enable traditional securities programming intelligent securities, protocol level automation management, accelerate assets flowing in global market as well as help small and micro enterprises access global capital.
In recent years, government advocate to support the small, medium and small enterprises development. So governments at all levels have issued a series of policies to help enterprises solve the problems of financing difficulties, unsalable products and so on. Under these huge pressure,the small ,medium-sized and micro-enterprises is very difficult to development. In fact, not only in China, but also in the rest of the global world. Enterprise is hard to subsist because of lack of funds or be acquired, some enterprises have to close down . How many enterprise are lucky enough to be invested by venture capitalists and how many enterprises are able to become a powerful one? Most of them have been eliminated in the process of development or have disappeared in time for investment.
In fact, we all know that it is impossible to invigorate all of enterprises if we only rely on support, loans and investment. To solve this problem, we have to rely on social, non-governmental resources, or on ourselves. The emergence of the STO syndication economy also provides a way for companies with the power, dream, potential but lacks of capacity to develop. STO was called a "digital version" as a good way for grassroots companies to fight back.
After Industrial 4.0 and China made 2025 were put forward successively,
China manufacturing industry gradually developed into intelligent manufacturing industry. Automatic production, intelligent products have become a benchmark for the transformation of manufacturing enterprises.If a traditional electronics company wants to transform and upgrade, it must invest a lot of money to attract high-tech and innovative elites, and upgrade its production line and optimize its products.However, in the era of intelligent manufacturing, market share and capacity ratio have declined year by year, which has led to serious losses for several years in a row. You can imagine what a difficult thing it is if it's going to invest a huge sum of money to invigorate the enterprise. This thing just like fishing with bare hands, it doomed to be nothing. In the end, there are only two ways for enterprise to choose, one is to end operation to stop losses in time; the other is to look forward to miracles, continue to find financing and hang on . Although not all of the enterprises exist in this state, but it is also a microcosm of the current development of tens of millions of enterprises in China.
Under the trend tide of global digital economy development, the transformation and upgrading of traditional enterprises has become an irreversible trend. According to the investigation, BOKC is the first digital stock exchange in the world. By taking advantage of STO, BOKC have introduced the real enterprise project , technology innovation companies, Internet companies, small ,medium-sized enterprises and so on ,greatly changed their production relations between users and suppliers and made the real economy more dynamic.Such an approach can promote the healthy development of the digital assets industry, at the same time, built a platform for enterprises to transform, upgrade, and re-develop, thereby realizing the win-win situation of the project side, the super node, the investment institution and the user. Create an exchange that truly belongs to all users.
At the scene,the author learned that the BOKC digital stock exchange have a total of 9300 nodes, including 300 super nodes with voting power and 9,000 ordinary nodes. Adopt POW and POS mechanism to protect the rights and interests of each user. If an enterprise wants to get financing help on the BOKC exchange platform, or if it wants to connect with a project on the BOKC platform.Well, he must provide the platform with a project application. Firstly, after receiving the application submitted by the user, the BOKC digital stock exchange has commissioned a third-party law firm, accounting firm or audit agency to conduct due diligence and security audit on it.Finally ,token can be released on the platform by super node voting and referendum.
(photo2:guests are in the press conference scene of BOKC digital stock exchange)
Let's make an example, a farmer raised 2000 organic black piglets, but the farmer doesn't have enough money to raise them, so he applied a token investment on BOKC.After receiving this application, the BOKC Digital Stock Exchange commissioned a third party authority and unit to conduct due diligence on the farmers.After receiving this application, the BOKC digital stock exchange commissioned a third party authority and unit to conduct due diligence on the farmers. The results proved that the farmer's description were true, and the relevant information data were put on the chain and the safety audit was carried out. After the super-node vote passed, then the farmer successfully released "Black Pig Bay" on the BOKC trading platform. 2000 black pigs have their own identities. At this time, users can buy black pig coin ,wait for black pigs to be raised and receive the pork or receive the 'black pig coin' dividends . In this way, the problem of farmers financing is solved, and the problem of pork sales in the future is solved.All 2000 black pigs have their own identities. At this time, users can buy black pig shellfish and wait for black pigs to be raised and received the dividends they deserve for pork or "black pig coin". In this way, the problem of farmers financing is solved, and the problem of pork sales solved. This approach solves the problem of financing difficulties and unsalable products for small and medium-sized enterprises. Second, consumers are both consumers and investors. Consumers can not only get the goods but also the profits of the enterprises by buying Token.This is in so-called token retail spawning consumer.To a certain extent,it is also power the entity economy as well as help small and medium-sized enterprises to transform and re-develop.
At the launch site, the organizers invited BCFOF founding partners with extensive investment management experience in the block chain area, Committee member of Block chain of China Electronic Communications Association Mr. Li Jianwu gave a speech named "World STO Development opportunities for 2018-2019" for the guests on the spot. Firstly ,he mentioned in the speech that the purpose of STO is to issue general certificates with the nature of securities under the supervision of legal compliance.He also mentioned that STO is formed by the Securities and Exchange Commission (SEC) after seeing token was produced in block- chain and deciding to bring it into the securities regulation.He analyzed the regulatory requirements of the STO in the United States, Europe, and Asia, and predicted that "2019 will be the first year of STO". In addition, he planned assets, technology, scenarios, users, ratings, investments, marketing, and French financial insurance,trading and other aspects of the STO business layout.
(photo3:Mr .Li Jianwu gives a speech named "World STO Development opportunities for 2018-2019")
In addition, Mr. Zhang Xiang(founder of ONETOP, a global block-chain rating platform,)was invited to share the "path of Community Ecological Autonomy in the Block chain Project" for the guests. Mr Zhang analyzed the reasons for the -75 percent decline in digital currency markets in 2018, highlighting the "crime of ICO" and compared ICO financing with equity financing in detail.Under effective supervision, STO combines the advantages of IPO and ICO, which not only solves the bottleneck of IPO development, but also solves the problems of ICO without supervision and opacity. At the same time, the free flow of token under certain conditions also helps to improve the liquidity. STO has solved the traditional enterprise financing difficulty and the product unsalable and so on problem.Moreover, STO can realize cross-border world-class group investment companies and national participation, which makes STO become a new channel to start financing, and it will also be the digital economy in the future.Furthermore, the threshold of investment under STO is not high, individual users use idle assets, fragmented funds to invest, which not only open the channel between consumers and enterprises, help enterprises grow, but also help consumers to carry out rational investment and finance, and kill two birds with one stone.
(photo 4: Mr. Zhang Xiang shares "the Road to Community Ecological Autonomy in Block chain Project")
Immediately after the guests' speech , Mr. Liu Daewoo( vice president of the organizer UONLIVE CORPORATION )introduced to audience that 'block-chain technology entity landing innovation platform' . Through the new retailing to help enterprises to occupy the market quickly so as to provide consumers with all-round quality services as well as help consumers transform through block chain technology.He also shared the wealth brought by the rapid development of enterprises.Listed some great enterprissuch as IBM, Ali cloud, Huawei, Beidahuang, Dragon,ING and other well-known industries and institutions have been involved in block chain technology development and scene application. At the same time, he introduced the application scenarios of "online shopping mall", "offline entity", "chain thousands of catering systems", "JK yacht member shop", "intelligent dining counter", "food trace ability "and so on. He look forward to the future of the UONLIVE CORPORATION strategic planning and development goals.
(photo 5: Mr. Liu Dayu( vice president of the organizer UONLIVE CORPORATION )shares with audience)
The author learned from the live speech about BOKC by Mr. Zhang Shuai, (Director of China area of BOKC Exchange) that the BOKC digital stock exchange received nearly 50,0000 user registrations in 10 days during the public testing stage.This is shocking, but reasonable. After all, in addition to small and micro-sized enterprises has large market demand in domestic ,the actual power of BOKC can not be underestimated. Judging from the on-site handover ceremony of UONLIVE CORPORATION, BOKC is 100% owned by UONLIVE CORPORATION ,which is a listed company listed on the gem. (equity code: UOLI). BOKC has a strong strength to make long-term development plan, the future platform development prospects are inestimable.Furthermore, the block-chain market downturn, Only one project in one hundred is chosen,bubble removal before showing the essence.BOKC chose to launch during the market downturn, which proof its overall strength, safety and reliability.
(photo 6: Mr. Zhang Shuai introduces the differential features and advantages of BOKC Exchange)
Finally, the signing ceremony for the opening of entity enterprises was held on the spot.This is the first time that the application of light luxury products to build the economy , which realized the upgrading of output and the transformation of enterprises.This is the first step to power the entity economy for the BOKC. In the future, the BOKC platform will link up with more entity enterprises and help enterprises to transform and redevelop with the aid of token economy, which is precisely respond to the call of national policy to help small and medium-sized enterprises develop.That means helping to fully implement China 2025 landing.
BOKC Stock Token Exchange official website:https://www.bokc.one
上一篇:Zhejiang court hears appeal of arsonist nanny sentenced to death
下一篇:Wu Zun with his 72-year-old father Dengzhen Show Zun Dad's facial features are super high